In the last few years, the face of banking has irrevocably changed. One of the examples is the emergence of a new banks breed known as "challenger banks" — financial institutions focused on providing exclusively digital services and minimizing customer interaction with a bank.
First introduced in the UK, the phenomenon of challenger banks has expanded immensely. Today, there are nearly two hundred challenger banks operating worldwide, and their number is growing. And this became possible with the rise of such innovative technologies as blockchain, AI, and others making their way into the banking sector.
So what is digital transformation in banking? In this blog post, we will overview 3 current digital banking trends, specifying changes each technology brings to the industry.
The Face of Digital Innovation in the Banking Sector
What is the future of digital banking? How will  the industry change? The truth is that transformation is associated with both digital banking challenges and opportunities for the banking sector. Here is how it looks:

Regardless of the challenges, there is no doubt that transformation will continue, with such digital banking trends as mobile banking, mobile payments, mobile apps, blockchain, and AI heading the digital revolution. Now let's see each of digital banking trends 2020 in more details.
Top 3 Digital Trends in the Banking Industry
Each of the trendy techs highlighted below has already impacted  the banking sector, continues to do it, and can also be considered as one of the digital banking future trends, as their influence on the industry will grow.
Digital Mobile Banking
In the modern world, quality customer service in banking is no longer associated with standalone buildings crowded with people. Instead, it is more focused on providing 24/7 distant services with reduced human interactions — both achievable with the emergence of banking mobile apps. In other words, the competition is for the easiest-to-use apps, where deposit checks, funds transfers, and applying for loans are possible anytime and from every location with Internet access. What is more, there are several requirements best digital banking apps should address. These are:
Simple yet secure sign-in
Bank account management
Intelligent chatbot for customer support
ATM locator
QR code payments
Alerts and notifications
Track of spending habits
Cashbacks
Special offers
Apps for wearables
Shared finance features
There is one more technology we cannot overshadow — mobile pay. The number of stores set up to accept mobile payments is growing along with customer satisfaction, leaving no space for questions on how innovation in digital banking enhances the customer experience. Here are the main advantages that outgrow from the implementation of digital mobile banking.

When it comes to the future of digital banking, it is best described with the word "omnichannel". What does this mean? The answer is the app that offers access to banking operations through different channels, such as a website, mobile app, call center, or any other. So the best omnichannel software is the one that provides access to all possible channels.
Blockchain
Digital innovation in the banking sector will not be possible without the blockchain technology. It is predicted to have a notable impact on digital payments, escrow services, loan processing, as well as many other areas requiring utmost security. Today, the technology is used by some banks for:
Payments (cross-border, peer-to-peer, corporate and interbank);

Private equity asset transfers;

Tracking derivative commodities;

Management of trading, spending, mortgage and loan records, etc.
The future of digital banking will also witness blockchain used for automating processes that need to meet certain regulations before being executed. As for now, here are the main benefits already offered by blockchain: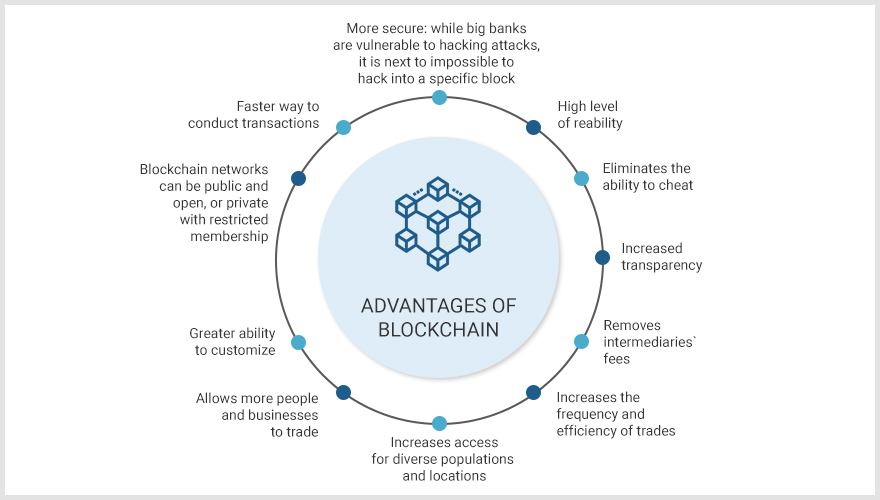 Artificial Intelligence
Being one of the most trendy technologies, AI is used in nearly every industry, and banking is no exception. Among its numerous use cases, the most promising one is represented by automated wealth managers. To see all the benefits this technology brings, let's first take a look at the greatest concerns wealth management is facing today.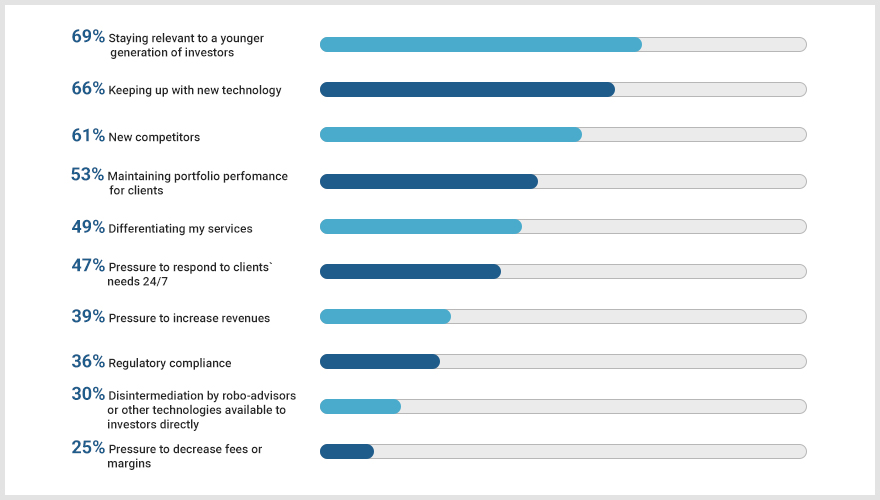 So how can automated wealth managers address the above-mentioned issues and why this technology is believed to be one of the worthiest digital transformation examples in banking?
In short, it allows investment banking digital transformation. AI-driven bots open up space for defining the best investment opportunities, best interest rates, and best loan providers. The technology is considered to be a solution number 1 for those planning to stay on top of the investment prospects.
Conclusion
It is obvious the banking industry is experiencing  a digital revolution. While its future will definitely be affected by new advanced technologies, changes to the banking industry have already started, and there is no better time to adopt trendy techs to keep up with the modern times and answer growing customer expectations.
With swipe cards, ATMs, card readers, and sensors already used in the sector, the era of new digital banking technology trends has come. So if you have any ideas concerning technological improvements to your existing banking services, feel free to contact us. Getting to the next level of providing banking services with SCAND banking solutions is easy and satisfying for both businesses and their clients.