"We are glad to be ranked as a top service provider in Eastern Europe on Clutch. We are very thankful for these acknowledgements and can promise that our development services will continue to grow in the future."
With nearly 20 years in business, we've completed hundreds of successful projects and built long-term customer relationships. Our work has helped us earn a reputation for consistently delivering top-notch solutions that will meet our clients' needs, be on-time, and be within budget.
Earning an average rating of 4.8 out of 5 stars from our clients on Clutch, we're excited to announce that we've been named a top software developer in Eastern Europe! Out of the thousands of service providers on the site, we are proud to be among the leading Eastern European firms in the development category.

Clutch is a B2B ratings and reviews firm committed to helping businesses find reliable information on vendors before beginning new partnerships. By conducting in-depth client interviews, Clutch analysts provide verified information on projects each vendor has worked on including project cost, time it took, tools they used, and most importantly, the results. Based on this feedback, Clutch releases lists of top-performing agencies in many different industries.
It's an honor to be recognized, not just by Clutch, but by our own valued partners. Our primary goal has always been to provide tailored solutions that meet our clients' needs. Our work has helped us become listed on The Manifest in the top 15 software developers in Belarus. We've been featured among Belarus development resources for our work on the custom solution we developed for one of our IT partners: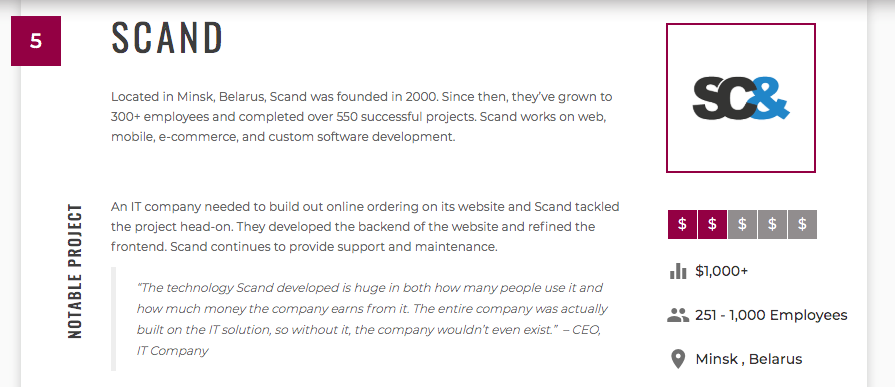 You can compare our work to other software developers on Clutch's sister site, Visual Objects, a resource for developers to showcase their portfolios. There, it's easy to see how we stand out from the crowd. To discuss your business needs, please get in touch with us. We'd be glad to answer your questions as soon as possible.